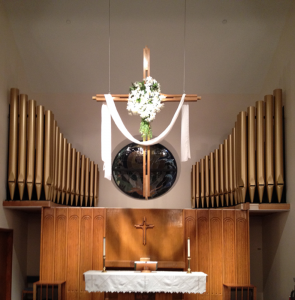 Meticulous Pipe Design… Incomparable Digital Voices
Allen digital and pipe combination organs are designed, built and installed with attention to meticulous detail that ensures truly artistic results, successfully melding the principles of traditional pipe organ building with 21st Century technology.
At the heart of each instrument is a chorus of rich singing Principal stops, voiced to effortlessly fill the sanctuary while encouraging and enriching congregational singing. Added to this core of pipe sounds are the realism, detail and versatility of Allen's incomparable digital voices! The result is a seamless tonal diversity that supports varying styles of worship, choral accompaniment, and organ literature.
Many churches choose to keep their beautiful and treasured pipework while adding Allen digital stops to their existing pipe organ, all controlled by a new Allen console. This allows the addition of advanced Allen technology – thus creating an instrument that can lead their music program well into the future while preserving their cherished past.
Call HERITAGE CHURCH ORGAN COMPANY today to find out how we can help!